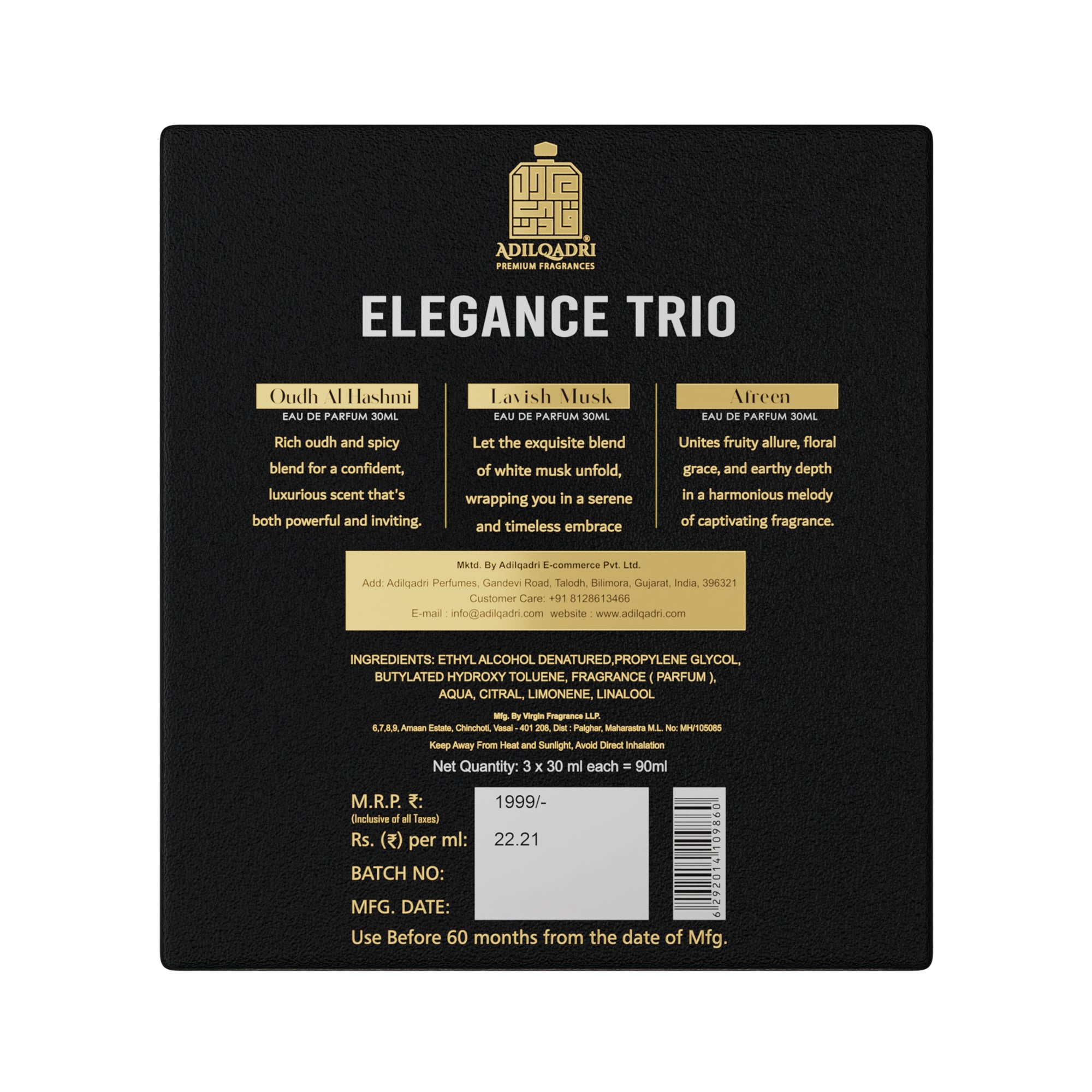 ₹100

off on All UPI Payments

Non Returnable
COD Available

Delivery within 5-6 days
Long Lasting
Unique Fragrance
Heavy Projection
Masculine Scent
Long Lasting
Unique Fragrance
Heavy Projection
Masculine Scent
Long Lasting
Unique Fragrance
Heavy Projection
Masculine Scent
Adilqadri Elegance Trio - 3 x 30ml Eau de Parfum Set
Elevate your fragrance experience with the Adilqadri Elegance Trio, a remarkable collection of three 30ml Eau de Parfum bottles that encapsulate the essence of luxury and sophistication.
Lavish Musk Eau de Parfum (30ml):
Lavish Musk Eau de Parfum is the embodiment of refined sensuality. It enchants the senses with its rich musky notes, harmoniously balanced with exquisite floral and woody undertones. A fragrance that whispers sophistication and allure, Lavish Musk leaves an indelible mark of elegance wherever it graces your presence.
Afreen Eau de Parfum (30ml):
Afreen Eau de Parfum is a jubilant celebration of vibrancy and joy. This Elegant fragrance bursts forth with a delightful fusion of fruity and floral accords, creating an aura of positivity and exuberance. Afreen is your olfactory companion for embracing life's moments with boundless enthusiasm and sheer happiness.
Oudh Al Hashmi Eau de Parfum (30ml):
Oudh Al Hashmi Eau de Parfum is an ode to timeless oriental luxury. It pays homage to the legendary Oudh wood, revered for its rare and Elegant aroma. With deep, woody notes and a touch of smoky sweetness, Oudh Al Hashmi evokes opulence and grandeur. A fragrance that leaves a lasting impression, Oudh Al Hashmi is your ticket to a world of refined elegance.
The Adilqadri Elegance Trio is a symphony of scents that offers a fragrance for every facet of your life, from refined evenings to vibrant celebrations. Immerse yourself in the art of fragrance and let these Eau de Parfums define your unique style and presence. Experience the allure of Adilqadri's Elegance Trio today.  

FRAGRANCE CLASSIFICATION: EAU DE PARFUM
NET QUANTITY ‏: ‎3 x 30 ML
CONTAINS ALCOHOL: YES